The 2nd Annual installment of THE BEST BRUNCH IN LOS ANGELES IN 2017
Last year, I selected some of my favorite brunch spots to win a very prestigious "brunchie" honor and now the tradition continues. What's more, last year, I designated seven restaurants as "must try" brunches for this year — Post & Beam (Baldwin Hills), Spear Steak & Seafood (Downtown LA), Odys + Penelope (Mid-City), Magnolia House (Pasadena), Sonoma Wine Garden (Santa Monica), Sunny Spot (Venice) and Wolf (Mid-City). I fell out of love with the idea of some but managed to try three of them and have carried over the rest into my wishlist for 2018 (see below). Enjoy these honors for the best Brunch in Los Angeles:
Best Benedict: Barrel & Ashes (Studio City)
The King of Brunch menu items; hail! Last year, I named B&A the "Best Non Traditional Brunch," but this year, at a recent visit in fact, I became taken by their smoked salmon Benedict. Their hollandaise is perfectly lemony and much more light and fluffy than heavy and creamy. Also, though the dish is primarily served hot, they leave the lox cool which is wise — warm lox are gross and the hot/cold contrast really worked to my surprise.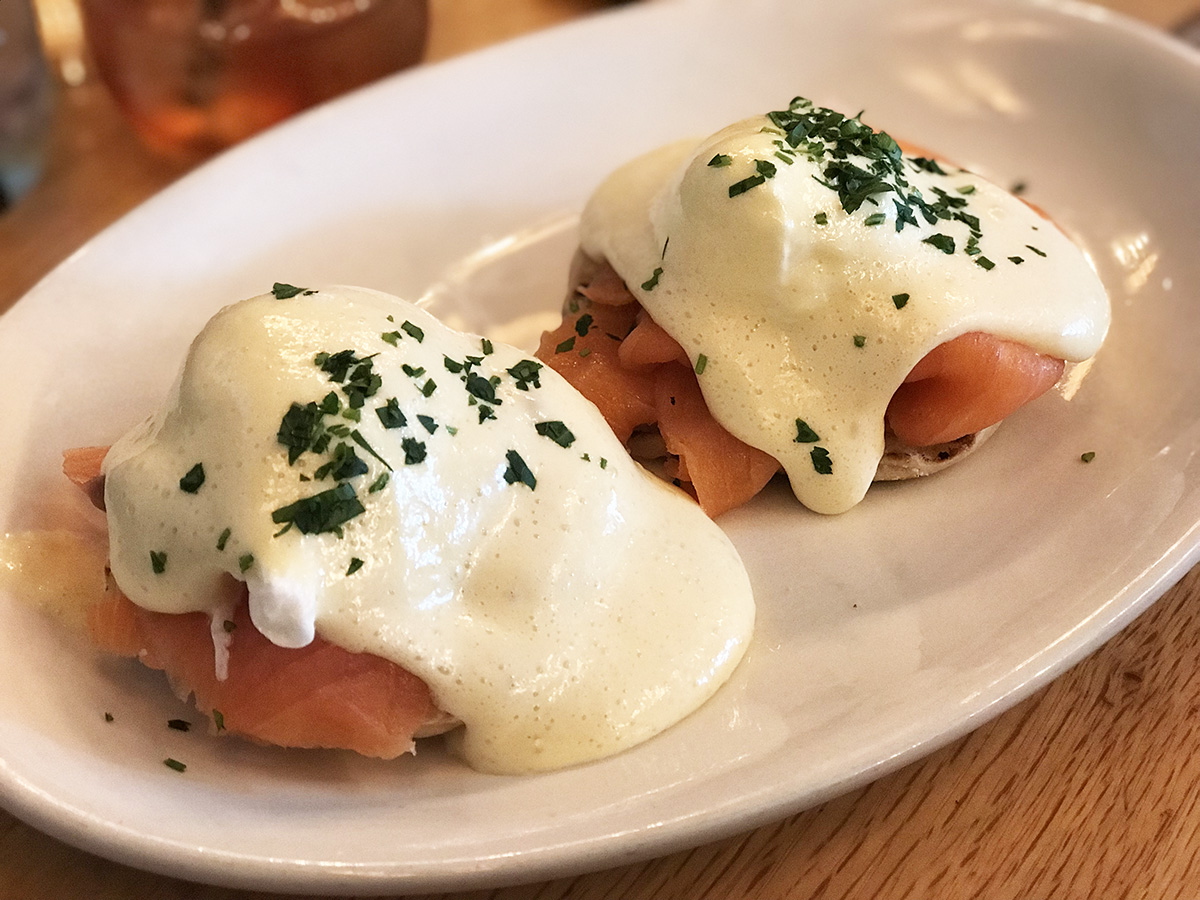 Best Toast: Republique (Mid-city)
Avocado toast is still trending but I'm seeing more and more toast variations on brunch menus and LOVE the Ricotta Toast at Republique — sourdough toast, ricotta di finnisma, persimmons, pomegranate, pistachios and honey. I liked it so much that I went to the market and bought myself some thick wheat bread, some ricotta and some honey just to make my own variation at home (it's not as great as theirs but it gets the job done). They also offer a beautiful Smoked Salmon Tartine with avocado, pickled persian cucumbers, onions, fresno, capers, dill and lemon. I love seeing this ingenuity because I can only take so much hipster avo toast.
Honorable Mention: Bellwether (Studio City) – That said, the avo toast at Bellwether is phenomenal and they too have a smoked salmon toast I love!
Best Bloody Mary: SOCA (Sherman Oaks)
Someone let me know when you go to SOCA and try their $145 "Baller Brunch" — a 32oz 30 Day Dry-Aged Prime Creekstone Tomahawk Ribeye, 1/2 Dozen Fried Eggs, Sautéed Onions & Arugula, Béarnaise. In the meantime, I'll be happily sipping their Boneyard bacon Bloody Mary with Balsamic, Jalapeno, Salt and – what else? BACON. It's got a rich, deep flavor I am addicted to.
Best Alt-Brunch/Best Newcomer: Kismet (Los Feliz area)
Some tips on newcomer Kismet — street parking in the area is a pain in the tush.  The restaurant is small and presently at the height of its popularity so plan to wait and pray to get lucky. Do not come expecting to order bacon and eggs. But every moment spent searching for parking and waiting for a table is worth it for offerings like their Shakshuka (poached eggs in a tomato stew – my favorite!), Freekeh Polenta and/or the Kuku (a Persian Frittata). There are also some incredible, savory sides and I highly recommend the flaky breads.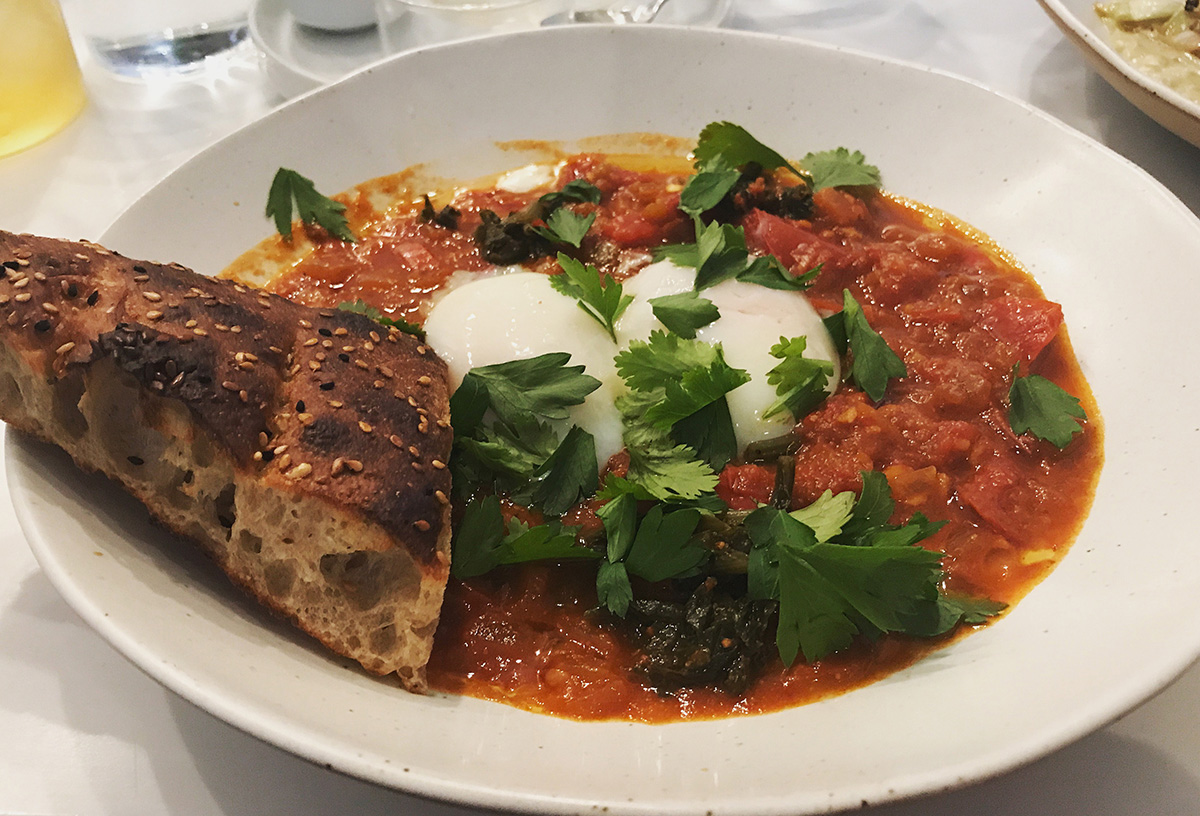 Best Potato: Wolf (Mid-city)
So when I went to Wolf this year, I enjoyed their Tortilla Española which is like breakfast pie. They use a finely whipped egg, potato, onion, pimentón, and a chive aioli. It. is. exquisite. However looking at their website now, it's not listed so I'm wondering if it was a special? But worry not, because the side of crispy potatoes could be a meal unto itself, too. It's everything you could ever need from a potato in a heap of bright yellow aioli, an "aji amarillo aioli," which is South American inspired. That aioli is everything.
Honorable Mention: Little Dom's (Los Feliz) – Their fried potatoes are largely considered their signature daytime dish. A must-have.
Best MexiBrunch: Red O (Santa Monica)
Last year's "Best Mexi-Brunch," Mercado, is still way up there, but I was really taken with the discovery of Red O Santa Monica's brunch. The setting, just across the street from the ocean, is stunning and vibrant. Everything we tried off the menu was delicious and there is no topping their desserts.
Best For Groups: Spring (Downtown)
I said it before and I'll say it again, Spring is the perfect setting for groups. Stepping inside magically transports you to a simple, clean and pretty Bistro in the South of France. And in that setting, it's hard to believe you're actually on the corner of 3rd and Spring, at the base of the Douglas Building in the Historic District, a short walk from the iconic Last Bookstore.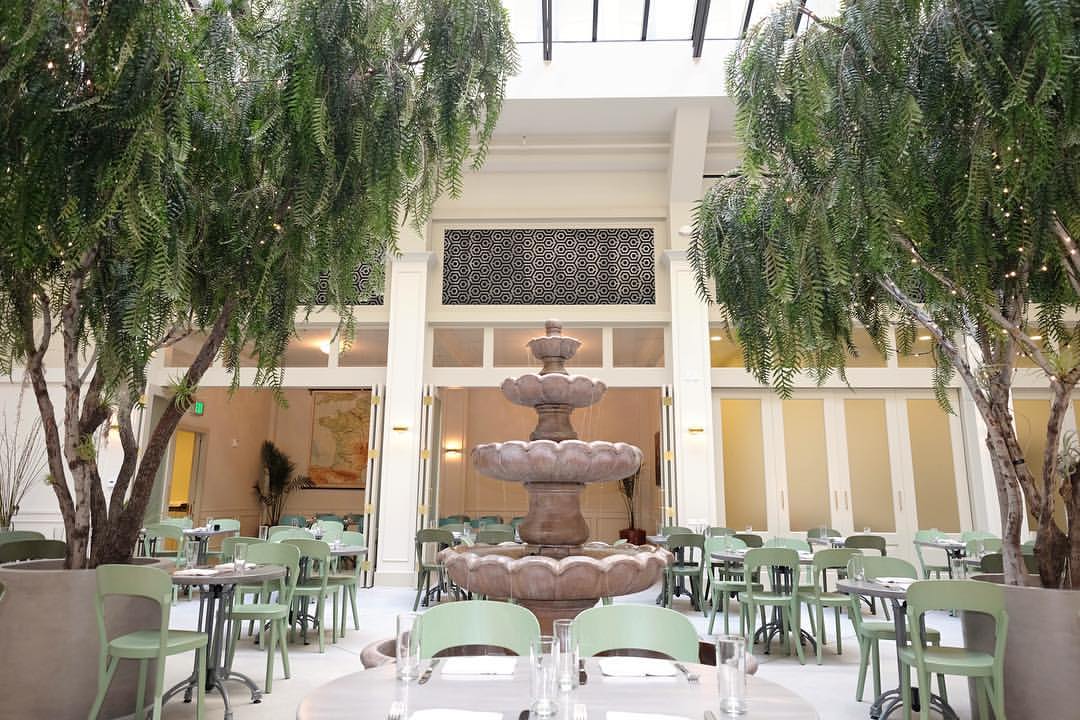 Honorable Mentions: Market Provisions (Mid-city) is a small place but they handle groups well. With about 15 people in our party, we had a great time and the bottomless mimosas didn't hurt. Similarly, The Raymond 1886 (Pasadena) is an intimate lodge-style setting that takes on groups with ease. I found it especially festive at the holidays.
Best Brunch Cocktail: Black Market Liquor Bar (Studio City)
The "Painkiller" at BMLB is one of those dangerously tasty cocktails you can put away a lot of because it doesn't necessarily taste like booze. The tiki themed beverage is made up of rum, pineapple, orange, coconut cream and nutmeg. You can also take advanatge of their $32 "Make Your Own Mimosa" option. You get a bottle of Cava and your choice of two juices from prickly pear, peach, cranberry, grapefruit, orange,  or p.o.g. They also have a cocktail called "No Es Importante" that is, if I may say, quite importante.
Best Patio: The Ponte (Mid-City)
R.I.P. Terrine (yeah, still not over it) but I do love The Ponte, which took its place. The patio remains the same, ever-charming and quaint — serene. I love their menu, too, so it may be earning a permanent residence in my heart this year. When you're not near the beach, it's shockingly hard to find a pleasant patio setting so this place is valuable.
Honorable Mention: Mohawk Bend (Echo Park) is unique because their patio is more of an indoor/outdoor patio. El Tejano (North Hollywood) is about as casual as a brunch is gonna get but their margaritas are as big as yer head and their patio is huge with the added benefit of some bar games. It's a super fun spot and, believe it or not, great for kids.
Best Aesthetic: Faith & Flower (Downtown)
I'm not sure any restaurant in Los Angeles is as beautiful as Faith & Flower. It's light and airy in the daytime but becomes chic and sophisticated at night. Either way, it's packed with vintage, high-end charm all the way down to their green wine goblets, which I am pretty obsessed with. (Fun fact: At dinner service, they use converted bongs to aerate their wine.)
Best Makeover: Messhall Kitchen (Los Feliz)
The first time I went to Messhall, the service was atrocious and the food came out cold so I swore up and down I would never return. But when "Chef Foxxie" departed Churck Key in West Hollywood to become Messhall's Executive Chef, I was suddenly wanting to give it further consideration…. And I'm so glad I did. Keep in mind these are really the only guys in town serving brunch SEVEN DAYS A WEEK, til 3 PM, with a large menu and a ton of incredible desserts to boot. you absolutely have to save room for the banana cream pie in a jar. Unbelievable.
Brunches I Need to Try in 2018
Brunches Other People Keep Telling me I Need to Try in 2018