Guys, I'm super obsessed with podcasts. This is a complete 180 from the me of a few years ago who swore up and down that she'd never abandon morning radio. My phone is loaded, my beloved Bose Soundsport Wireless Earbuds are more-oft-than-not are around my neck, and every chance I get, I am listening. But no true crime. It's just not for me. Though I have been known to enjoy "My Dad Wrote a Porno" or "Missing Richard Simmons," among others, my real jam is interview podcasts. I guess I just like to listen to people have conversations about themselves…? Mostly it's celebrities but I do occasionally mix in "real" people or political figures. So if you too are itching for more audio material to consume, I invite you to enjoy my podcast obsession: interview podcasts!
The Adam Carolla Show – As a publicist, the thing I find incredibly cool about Adam is that while he's one of the most downloaded podcasts around, he doesn't sit up on a throne and only host top tier celebs. Adam has room for everybody and he's always genuinely curious in stories. Adam himself has a pretty interesting background and rise to fame, in fact, but a major part of his background is radio, which clearly helps him rise to the top here.
Armchair Expert – A lot of interview podcasts try to put a spin on their show to set them apart ad in this case, Dax goes through a lengthy interview, always interesting to me – he's super engaged and genuine – and then he and his Producer spend the last 20-30 minutes of the episode going back over the interview and correcting mistakes or offering support or background to something that had been discussed. I also happen to love this podcast's branding. The website, the merch, the brand — all very on point. (Tipping my hat here to my friend Ryan, who turned me onto this one.)
Awards Chatter – The Hollywood Reporter's Scott Feinberg is getting all the top tier celebs here. This podcast has been around few a few years and while I am all caught up on the last year's worth of episodes, I've also been enjoying going all the way back to the beginning and listening to the old ones. Scott is just great at what he does (I say so on Twitter often, and he probably thinks I'm a little obsessed with him). I'll be honest – he often has a Hollywood exec or expert on for the first 30 minutes to discuss something in the news and I skip through that. I just want the celebrity.
Curious with Josh Peck – Josh is still finding his legs as a podcast host and gets a wee bit rambly sometimes but he'll get there. Maybe he'll find a sidekick or producer to assist. He needs to do a little more background research on his guest. But he has had great guests so far and I think it's fun to hear from someone as young as he is since most of the hosts you're seeing here are older guys and gals.
Getting Curious with Jonathan Van Ness – Every other week or so, "Queer Eye" star "JVN" welcomes an expert to discuss whatever topic he is curious about that week. Sometimes it's prophetic like a deep dive on Islam, and sometimes it's as simple as having Michelle Kwan on to talk about "what's up with figure skating?" It's an easy listen, about 30 minutes every time, and so enthralling because not only is Jonathan genuinely curious, he is smart. I am always impressed with the questions and information.
Gilbert Gottfried's Amazing Colossal Podcast – Gilbert (whose voice is not as annoying as you think it is, I promise) co-hosts with comedy writer Frank Santopadre. Gilbert will only have guests on he's heard of. That's not to say he won't be prepared and do research, but you won't find Zac Efron here, just to plug a movie. He's only interested in talking to, well, the people he's interested in. Which I kind of dig. And as a result, you get to hear from Hollywood icons that aren't often recognized by the mainstream.
ID10T w/ Chris Hardwick – A lot of people will accuse Hardwick of talking about himself too much – and I suppose he does – but it doesn't bother me. He's still the world's most accomplished fanboy and I enjoy his nerdiness and dorky enthusiasm. And stepping into my PR role for a moment, I can also tell you, having met him, he was very nice to me, very generous, and supportive of the little indie films we sent his way.
Katie Couric – I love Katie. Do you follow her on Instagram? She is a delight. She co-hosts this podcast with political journalist Brian Goldsmith and because they are both journalists, they handle celebrity guests, political figures, news-relevant discussions and more with ease. At this point, I really want to go to a happy hour with Katie so if anyone can make that happen, shoot me a note, pretty please.
Off Camera with Sam Jones – Sam Jones seems to be friends with everybody and yet, I'd never heard of him. But this podcast, like Awards Chatter, has been around for ages and I'm enjoying going back to old episodes to catch up. Who is Sam? He is a photographer and director whose portraits of Barack Obama, Sandra Bullock, George Clooney, Bob Dylan, Kristen Stewart, Robert Downey Jr, Amy Adams, and Jack Nicholson have appeared on the covers of Vanity Fair, Rolling Stone, Esquire, GQ, Time, Entertainment Weekly and Men's Journal. So a few things you've heard of, yes? Plot twist: His podcast is also a TV series.
Pretty Big Deal with Ashley Graham – My dear friend Becky got me hooked on Ashley's Instagram. If you are not familiar, she is a famous plus sized model, totally stunning, totally unapologetic, and quite influential. When she launched her podcast, she announced a pretty impressive guest list, debuting with Kim Kardashian West, then having Amy Schumer, activist Halima Aden, Olympian Lindsey Vonn and then some. She also records her podcasts on video so you can watch them on YouTube if that's preferable.
Recode Decode – Host Kara Swisher is highly respected; one of tech's most prominent journalists, known for insightful reporting and a straight-shooting style. I first came across her as a keynote at BlogHer 2014 and have been a worshiper ever since. She holds nothing back in hard-hitting interviews with celebrities, influential business leaders and outspoken personalities from media, politics and more. I especially loved her interview with Mark Zuckerberg. I said so on Twitter and she responded, which made my month.
WTF with Marc Maron – Marc Maron is perhaps the Godfather of the interview podcast, if not the originator, having started podcasting long before it was deemed cool. The show launched in September 2009 in Maron's former garage, where he even interviewed then-President Obama. I think Marc can ramble on a bit and often fast forward through his long intros, but he's still nailing it in every interview and he's always hilarious besides. (I've seen him do stand-up and it was one of the most memorable sets I've ever seen. And he improved the whole thing.)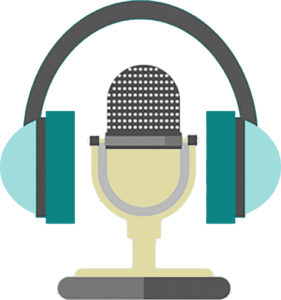 Bonus Podcasts! 
How Did This Get Made – Not really an interview podcast, per se. Paul, Jason and June run through bad movies with hilarious commentary but often have celebrity guests join them either in studio or at live shows. This may actually be the podcast I love the most when I've seen the movie they're discussing.
Oprah's Master Class – Also not technically an interview but it's a nice, easy listen at about 30 minutes per, with one celebrity speaking on a challenge they overcame the whole time, minus Oprah chiming in with backstory once or twice.
Late Night With Seth Meyers – They're really just putting the episodes in an audio format but they do add a little more interview with a Producer backstage. And I just love "A Closer Look" with Seth. I actually prefer listening to the show over watching it for some reason. (And I'm never up that late anyway.)
Honorable Mentions
The Ralph Report | Conan O'Brien Need a Friend | SCORE: The Podcast | Really Famous | Boom Time with Flula Borg