And the award goes to…..
It's time for the 2018 Brunchies! I am so excited because it's time to give out my annual BRUNCH AWARDS! YES! It's been another stellar year of decadent mid-morning meals, Benedicts, toasts, cocktails and more. It's my hope that in 2019, I can continue to bring you the best Brunch-related content over at @HollywoodBrunch and perhaps get back to my long lost newsletter for the subject. I've also had the privilege of being a journalist on the meal I love most, now — I'd love to do more of that work as well (and, in fact, another article will be out in January). 
The envelope, PLEASE….! 
BEST BENEDICT: Aeirloom Cafe (Toluca Lake)
For years I've lived near this small, bustling Cafe and only once popped in for lunch on a weekday because it was convenient. When I finally got over there for Brunch (albeit on a weekday — they are only open for breakfast and lunch, seven days a week), I had to chastise myself. What a menu! It's so epically vast and I'll need to go several more times to truly conquer it. But I thoroughly enjoyed their Eggs Benedict because the thick, fresh English Muffin they serve it on is to die for. live22
BEST NON-TRADITIONAL BENEDICT: Fig & Olive (Melrose)
Fig & Olive was a gorgeous restaurant before and is even more beautiful following a little refreshing this year. I love going there for any meal and have been for years, though this year was the first time I partook in their Brunch. Their Benedict combination is something I'd never imagine enjoying as much as I did — poached egg with prosciutto di parma,
manchego cheese, pear and hollandaise sauce.
BEST PASTRY: 189 by Dominique Ansel (Fairfax)
I know I am late to this but dear lord, the CRONUT is real and I am HERE FOR IT. They change the Cronut flavor monthly but when I got to enjoy it, it was a Maple French Toast Cronut that went down nice n' smooth.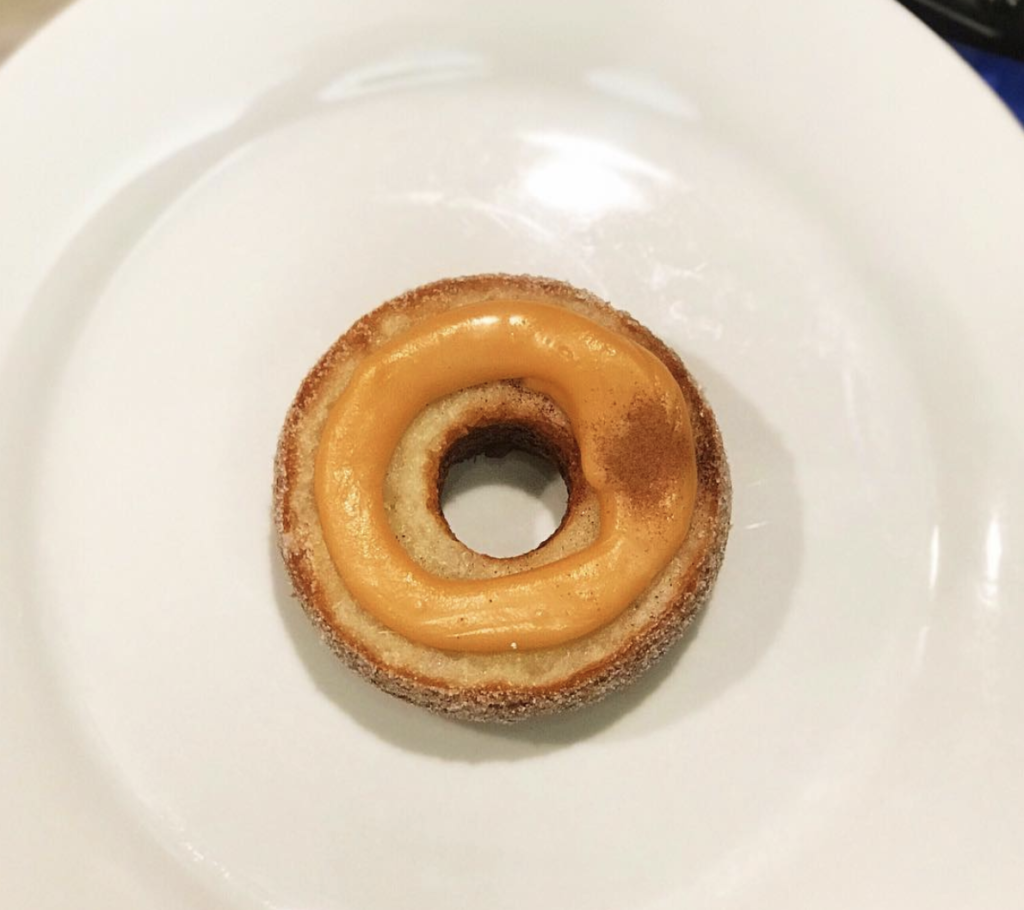 An honorable mention in this category would also go to 189 for their Kouign Amann pastry. It's buttery and delicious. You can buy them to take home in packs of four and it's worth every calorie.
BEST BLOODY MARY: The Henry (West Hollywood)
I'd been itching to try The Henry since before it opened and it did not disappoint. They might also get the "Best Aesthetic" and "Best Patio" honors were it not for my desire to spread the love. And their Bloody Mary cart is just epic. Spend only a couple bucks more to take advantage of it. Choose from four homemade infused vodkas and a myriad of accoutrements like bleu cheese olives, bacon, salt and celery.
Honorable Mention: The Bloody Mary at Granville is simple but perfect. (And the ones I make at home are pretty damned good, too.)
BEST SMALL PLATE: Black Market Liquor Bar (Studio City)
Perhaps we can say Cauliflower is the new Avo Toast, yes? I've seen it on a ton of Brunch menus in the last year (and for other meals as well) but no one does it better, in my opinion, than Black Market Liquor Bar, where they lightly fry the cauliflower and then top it with parmigiano-reggiano and serve it with a side of yummy lemon aioli.
BEST NEWCOMER/BEST FRENCH BRUNCH: Petite Trois (Sherman Oaks)
The Valley rejoiced as Chef Ludo decided to expand his empire our way when he opened his second Petite Trois in Sherman Oaks. And there are more Ludo-run establishments to come! And while last year I seemed to come across many a Mexi-Brunch, this year the French-inspired Brunch was very prevalent. So why wouldn't this honor go to one of the most acclaimed French restaurants around? Their French Omelette is available on the menu for any meal and is absolute perfection. My favorite surprise was how much I loved the smoked salmon tartine, due mostly in part to the wonderfully salty caper berries.
Honorable Mention (both for Newcomer and French): Bluebird Brasserie in Sherman Oaks. Are we seeing a Brunch Renaissance blossoming in this suburb of the Valley? Only time will tell but it looks promising.
BEST FOR GROUPS: The Bellwether (Studio City)
For reasons I've never been able to figure out, despite landing on so many "best of" lists, The Bellwether just doesn't get crowded on weekends. Not in my experience, anyway. So until the rest of the city catches on, feel free to make a reservation and head there with your large group. They have a lengthy menu of shared plates — the brioche French toast is probably my fave.
BEST PATIO: Baltaire (Brentwood)
Save your pennies because Baltaire is pricey but it's an elegant, mid-century mod setting and just the spot if you need to take Mom out for Mother's Day. The whole restaurant is bright and airy with their floor-to-ceiling windows. And when they're opened, the whole restaurant is transformed to an indoor/outdoor experience. The patio is very private and quite large but manages to feel cozy and they have extremely attentive staff. (Hint: Start with the cheddar scallion biscuits.)
BEST VIEW: The Strand House (Manhattan Beach)
Oh sure, you have to look out over a parking lot, but there's really nothing wrong with that once you see the incredible beach behind it. And the restaurant is in a fun area for walking around afterward!
BEST AESTHETIC: The Nomad (DTLA)
I am obsessed with The Nomad Hotel downtown. It. Is. GORGEOUS. I can only imagine the attention paid to its design. There is so much detail and every inch of the place is luxurious.
Brunches I Need to Try in 2019
Brunches Other People Keep Telling me I Need to Try in 2019
POSTSCRIPT
These were the Brunches on my "to try" lists last year that I ventured to (and enjoyed!) in 2018:
Make sure you're following my brunch adventures on Instagram. Here's to many more delicious, decadent meals in 2019!