All The Best Things About Mexican Brunch — Or Brunch in General
My most favorite brunch spots always meet the following requirements: They incorporate the outdoors in some way, there is a colorful setting, it's an energetic spot but not overly noisy, they make an outstanding Bloody Mary, they serve appetizers (because dammit, I want to try more than one thing on the menu!) and usually great desserts, they have a lot of choices with a few not-found-elsewhere items and, most importantly, I can get a side of bacon if my meal doesn't come with it. Because bacon. Because Brunch at Red O in Santa Monica from celeb chef Rick Bayless.
Outdoors? Colorful setting? Absolutely. 
There is a patio at Red O but even if you sit inside, you get to enjoy light coming in from the big windows which, might I add, reflects off all their colorful glass and lighting fixtures. The front of the restaurant is all windows and when we went, they were open so we made the most of perfect weather and being right across the street from the ocean. It also brings all the crazy energy of Santa Monica to your experience. (Like, real crazy, y'all. Santa Monica gets pretty whacky.)
Top Notch Booze.
Mexican restaurants really know how to make a Bloody Mary. At Red O it's a tiny bit spicy but it's perfect. It remains my quintessential brunch cocktail. That said, if that's not your thing, the Red O brunch cocktail choices are vast with Sangria, tons of Margaritas, a massive Tequila menu, beers, wines, hand crafted cocktails (I wanna go back and try the Horchata Colada), etc. They also have a very popular bottomless options and pitchers to choose from. So….. remember to take a Lyft, guys.
Classic Appetizers? For sure. 
If a Mexican restaurant is gifting me pre-meal chips and salsa, that salsa better be delicious. Now granted, I'm picky on my salsas. I can't do spicy but I don't want to dip my chips in a bland marinara sauce either. And by the way, I'm also one of those annoying people who think cilantro tastes like soap (shut up, it totally does). I'm also a sucker for ordering queso fundido or guacamole and mixing it all up together. (Is that weird? I don't care.) Anyway, they're doing up their small plates right at Red O. Everything is packed with flavor, nothing is overpowering and I didn't mind a tinge of spice here or there, nor a little cilantro in fact. And how about something off the beaten path with duck taquitos? They're a perfect, savory bite.
Options and Specialties.
The words LOBSTER BENEDICT jumped off the menu and slapped us right in our taste buds so the only decision we had to make was what else to order — which wasn't that easy. But ultimately we settled on something more traditional; the Chilaquiles. I know you're not shocked that both dishes were wonderful. You've never tasted anything as rich as LOBSTER with HOLLANDAISE, guys. And I can never ever resist the lure of what are essentially "breakfast nachos." Biting into a single chip with egg and cotija cheese and creme fraiche — it gives me life.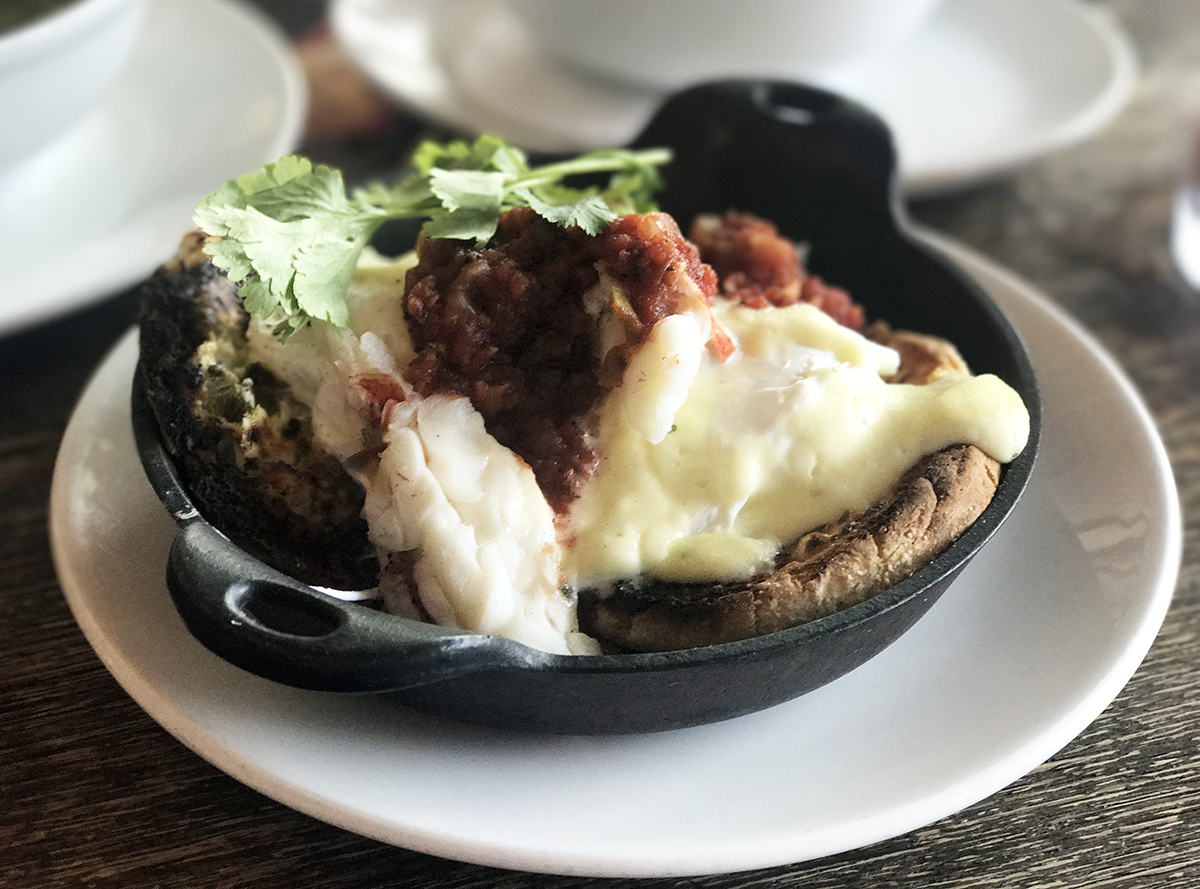 The Pièce de Résistance?
Brunch is naturally a pretty decadent meal in of itself so capping it off with dessert is not a necessity for me but when the Chef says he's just gonna send over a few "small things" for you to sample, why would you say no? And you better believe my jaw dropped right onto the table when a platter complete with every. dessert. on. the. menu. arrived at our table. Plantain cake (think banana bread, but better), Passion fruit butter cake (has anything in the history of the world with "butter" in the title ever been bad?), a homemade churro with chocolate sauce, and a chocolate tart. As if that wasn't enough, a bowl of their sorbets came out a moment later and I damn near pulled out the elastic in my waistband.
Check, Check and Check.
I love this restaurant and let me give you some additional tips. They have four locations but not all of them serve brunch so be sure and consult the website for details. In Santa Monica, parking is everywhere so you can either use one of the public lots for a few bucks or use the valet on Ocean Ave. And there's so much in walking distance there, you may want to leave time for a stroll on the beach or on the Third Street Promenade afterward! Walk off those eats!
Make sure you're following my Brunch adventures on INSTAGRAM!